Brookfield Renewable Energy Corporation (BEPC)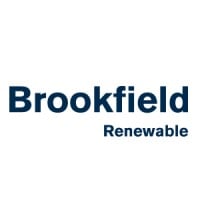 ---
14.6
Gigawatts
of electricity generation capacity across hydro, wind, and solar assets in 2020
27
Million Tons
of GHG emissions avoided in 2019
5.37%
Year-on-Year Reduction
in waste, 2017 - 2019
---
The Path to Drawdown: Solar, Wind, and Hydro
For the world to solve climate change and remain below 1.5ºC of global warming, we need to switch to generating power from fossil fuels to using 100% emissions-free sources.
Utility-Scale Solar
One of the largest sources of this clean energy is the sun (barring advances in nuclear fusion). Photovoltaic or PV solar panels (the kind you see on rooftops) have emerged as the predominant way of capturing the sun's energy and converting it into electricity.
The industry has been growing fast: solar panels are now the cheapest source of electricity in most places on earth as of 2020.
Solar produces ~2% of global electricity today. According to Project Drawdown, to be on a path to remain under 1.5ºC of warming, utility scale solar (as opposed to rooftop solar) will need to be generating a combined ~26% of global electricity by 2050.
To get there, the PV solar industry will need to continue to massively scale over the next few decades:
720 TWh of solar electricity generated in 2019
28,200 TWh needed by 2050
CAGR of 12.56% from 2019 - 2050
Another analysis from the IEA predicts that in order to reach a 100% clean electricity grid by 2050, annual solar panel manufacturing capacity will need to grow from 134 GWs in 2020 to 630 GWs in 2030 (p. 74).
Onshore Wind
Onshore wind turbines accounted for 4.36% of global electricity generation in 2020.
Global wind capacity has been growing steadily, increasing around 20% per year for the past decade, including an 11% capacity growth in 2019-2020. Thanks to this expansion and progress in turbine design, the cost of electricity generation from onshore wind continues to fall, even in areas with low wind speeds.
According to Project Drawdown, to be on a path to remain under 1.5C° of warming, onshore wind turbines will need to be generating 28.85% of global electricity by 2050.
To get there, the onshore wind industry will need to continue to scale over the next few decades
1,150 TWh

of onshore wind electricity generated in 2018

19,460 TWh

needed by 2050
CAGR of 9.38% from 2019 - 2050
The IEA forecasts (p. 74) that, to reach a 100% clean electricity grid by 2050, annual onshore wind capacity additions will have to increase from 109 GWs in 2020 to 310 GWs in 2030.
Hydropower
Hydropower electricity generation accounts for 44.5% of global electricity Next to solar and wind, hydropower is the third-largest (p. 45) energy source in the clean electricity mix.
According to the IEA, hydropower capacity additions need to accelerate significantly to reach the Sustainable Development Scenario level.
CAGR of 2.82% from 2019-2030
Importance of Yieldcos in Financing Renewable Energy
Yieldcos play an important role in financing renewable energy developers. Developers of utility-scale renewable energy take on significant risks and uncertainties when building new solar or wind plants. Yieldcos were established to protect investors in renewable energy stocks from these uncertainties and to give developers a steady source of capital for future projects.
Yieldcos are publicly traded corporate entities that own, operate and manage a portfolio of energy assets. Their assets generate long-term, low-risk cash flows, which are then distributed to investors as dividends. Sustained investor interest in yieldcos could continue to channel capital into renewable energy developers, making them competitive against high-carbon alternatives.
About
Headquartered in Toronto, Canada, Brookfield Renewable Energy Corporation (BEPC) is one of the world's largest yieldcos. BEPC owns and operates hydroelectric, wind, solar and energy transition assets in North America, South America, Europe and Asia, and is poised to expand into the offshore wind sector.
BEPC's Role in Drawdown
In 2019, BEPC's hydro, wind and solar assets combined generated 15.6 TWh of energy. That's 0.25% of estimated global generation capacity in 2019 of 6,376 TWh. For BEPC to retain a similar market-share, they will need to generate more than 31 TWh of energy by 2030.
This 2x growth would require a 6.49% annual increase in generation capacity. Given that BEPC's energy generation went through an annual growth of 1.23% from 2018 to 2019, they will need to increase its generation and acquisition of new assets more aggressively.
BEPC: What We Like
BEPC's emissions are already low for a company of its size, but it it committed to reduce and avoid emissions further:
77:1

- the ratio of avoided GHG emissions to total emissions in 2020.
Goal of

doubling

avoided GHG emissions by 2030
The energy generation and revenue from BEPC's portfolio are relatively robust to seasonal variability and regulatory changes because of its diversity:
5,952 power generating facilities across four continents, including three renewable energy technologies (solar, wind, and hydro power)
BEPC: What We Want to See Improve
Reduce Scope 1 emissions
---
We applaud BEPC for tracking and measuring its Scope 1, 2 and 3 emissions in its ESG Report and for reducing Scope 2 and 3 emissions over the last 3 years. Scope 1 emissions, on the other hand, have increased by 66% between 2018 and 2020. Reducing these emissions should be high on the agenda for a company like BEPC whose primary focus is sustainability.
Expand faster
---
Maintaining their market share in energy generation by 2030 would require BEPC to grow faster than they have in the past. While we acknowledge that the company will be moving forward with acquiring
additional solar and offshore wind farms
soon, we would like to see BEPC expand their portfolio even faster.
Set clearer and more aggressive goals
---
We applaud BEPC's
announcement
(p. 7) to double the carbon emissions it avoids by 2030, but this doesn't mean achieving net zero, and the goalposts for the next nine years are not spelled out. We would like to see BEPC set more aggressive targets to achieve no GHG emissions and a clear timeline on when and how to achieve it.
Attend Our Next Webinar
Join our next Sustainable Investing 101 webinar, get our favorite DIY options, and walk through how we build our portfolios.
Register
Get Our Newsletter
Go a level deeper with us and investigate the potential impacts of climate change on investments like your retirement account.
Join Newsletter
Talk To A Human
Joining a new investment service can be intimidating. We're here for you. Click below to email us a question or book a quick call.
Ask a Question