Your retirement fund should be invested in
a future you actually want to live in
~20% of the US stock market is fueling climate change
From coal, to fracking, to petrochemicals, your investment in these companies helps keep these dirty industries running. Time to divest.
100's of companies are building climate solutions
We replace the companies making climate change worse with the companies building climate solutions.
~80% of the US stock market could decarbonize
Without changing their core businesses. We pressure these companies to switch to 100% clean energy, electric vehicles, and more.

Transferring is complicated

.
Let us do the hard work.
Here's how our free 'Rollover Concierge' service works:
01
Submit the intake form
We'll get all your necessary info and open you up a Carbon Collective account for the transfer.
02
We handle the rest
Our partner, Capitalize, will help track down your old 401(k)s and handle all the heavy lifting to transfer the money into your Carbon Collective account.
03
You get paid!
After the transfer is complete we'll send you a welcome bonus.
Your old 401(k) could cost you
$354,858

over its lifetime

(in fees and lower returns)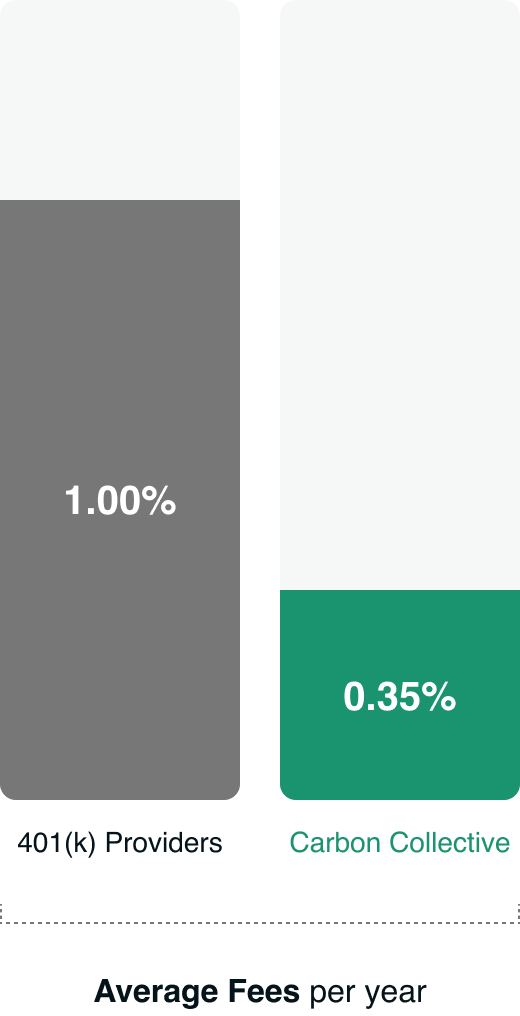 Why do 401(k)'s charge such high fees?
This month only!
We'll send you up to $25 / $10k you transfer
Initiate your transfer before September 30th
We'll send you a welcome bonus!
The more we all transfer, the more everyone's bonus goes up.
The minimum bonus is $10 per each $10,000. Each time the total passes another $1m, the bonus goes up by $1.00. If we get to $15 million, everyone gets the full bonus of $25/$10k! Once the campaign is complete and your transfer has arrived in your Carbon Collective account, we'll pay out your bonus.
The more who join, the better it gets for everyone. But don't wait too long!
We'll be capping the campaign after we reach $15 million in transfers.
Earn an Additional $500!
Refer your employer to Carbon Collective's green 401(k) plans.
How it works:
Schedule a 15-minute strategy session with our 401(k) team.
If your employer switches to a green 401(k) after meeting with us in September, you get paid $500 for referring them.
What people are saying about
Carbon Collective

I've used robo-advisors like Betterment and Wealthfront for years but I always felt like I was putting money into a black box. Carbon Collective changes that dynamic - I know why and where my investments are making an impact while getting great returns.

Ashton,
Climate Scientist
The discovery of James, Zach, and the Carbon Collective team has allowed me total peace of mind knowing that my money is being invested in climate solutions by a thoughtful group of knowledgeable investors... This is exactly the kind of work we need now.

Edwin,
Environmental Manager
Very different from the impersonal approach of other investment firms. The transfer itself didn't take much time.... The personal attention will spoil you and the ethical investment strategy will permit you to feel good about your investments.
A little more about
Carbon Collective

& Green Retirement Month

What exactly is Green Retirement Month?

A lot of us have old 401(k)'s sitting around from previous jobs. It's generally good financial hygiene to consolidate them and good planetary hygiene to decarbonize them.

Green Retirement Month started here at Carbon Collective last September (2021) where we made it easy and rewarding (on all levels) to roll over and decarbonize old retirement accounts.

The more folks that decarbonize their old 401(k)'s and IRA's with us in September, the bigger bonus we give everyone. Last year we sent someone $1,600!

We partner with Capitalize to hold your hand every step of the way, including locating your old 401(k) provider.

Come and get your financial life a little cleaner with us!

How does the 401(k) rollover process work?

We partner with Capitalize to make rollovers easy. Here's how the process works:

1. You complete the form to make sure we have what is needed to set up your Carbon Collective IRA (Individual Retirement Account).

2. Our friends at Capitalize handle all the admin work (at no cost to you!), from locating any old 401(k)s, to dealing with your 401(k) provider.

3. Your 401(k) will be "rolled over" into your Carbon Collective IRA, and we'll send over your bonus!

How will my bonus be paid out?

When you sign up, you will be asked how you'd like to be paid your bonus, and there are two options:
1. We mail you a check
2. We open up a general brokerage account for you and deposit the bonus there.

I'm already a member, how do I get the bonus?

All of our brand new members and existing members who roll over an old 401(k) or IRA into Carbon Collective are eligible for the bonus! If you're an existing member, go ahead and use this form to tell us what type of account you want to transfer.

How we build our diversified, low-fee portfolios

Our portfolios divest from the ~20% of the market that depend on fossil fuels and reinvest that share in the 100+ companies building climate solutions in the Climate Index. Our Core portfolios then diversify across the remaining companies who do not depend on fossil fuels for their core business. See our full portfolio and fee breakdowns.

Is it safe to invest with a new(ish) company like Carbon Collective?

You've worked hard for your retirement savings. You may like what we're doing, but what would happen to your account if CC doesn't make it? Your stocks and bonds are held by one of the largest custodians in the country and are insured for up to $150 million if they go out of business. So the worst case scenario for you is that you'll experience a mild hassle. You have our Transfer Guarantee that if anything happens to CC, we will work with you to move your account to a new custodian of your choice. Learn more here.
Watch the Webinar
Watch the on-demand Sustainable Investing 101 webinar! Learn how to be a smart investor who cares about climate change.
Watch Now
Get Our Newsletter
Go a level deeper with us and investigate the potential impacts of climate change on investments like your retirement account.
Join Newsletter
Talk To A Human
Joining a new investment service can be intimidating. We're here for you. Click below to email us a question or book a quick call.
Ask a Question