Waste Management, Inc. (WM)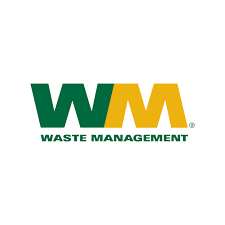 ---
26000
Vehicles
comprise Waste Management's fleet, the largest trucking fleet in the waste industry
34%
Alternative Fuel
8,924 of the vehicles in WM's fleet (34%) run on alternative fuel like biogas
107
Metric Tons of GHG Emissions
were avoided through WM's operations in 2018 and 2019
---
The Path to Drawdown: Landfill Gas
Although carbon dioxide is the greenhouse gas that's often talked about, methane has 34 times the greenhouse effect of CO2 over the course of a century. And the biggest source of methane are landfills, accounting for 12% of total global methane emissions.
Methane comes from the organic matter in landfills like food scraps, yard trimmings, junk wood, and wastepaper. Their decomposition produces biogas, a roughly equal mix of carbon dioxide, methane, and small amounts of other gases.
As diets change, waste is reduced, and recycling and composting grow, we're hopeful that landfill waste as a whole will diminish. But for now, as the modern way of life continues and organic matter in landfills continues to decompose, landfills and landfill methane emissions keep growing.
The way to manage this is landfill methane capture - the process of capturing methane generated from anaerobic digestion of municipal solid waste in landfills and incinerating the captured biogas to generate electricity. This solution has double benefits: it captures methane from landfills that's far worse for global warming, and it replaces conventional electricity-generating technologies like coal, oil, and natural gas power plants.
Currently, enough methane is captured to generate 33.1 TWh of electricity, or 0.13% of total electricity generated worldwide. In the best-case scenario for 2050, landfills wouldn't exist, and integration and waste feedstock availability would mean a net greenhouse gas sequestration, rather than emission. In a less ideal scenario, 70% of the world's landfills will have adopted methane capture, and they help reduce 2.2 gigatons of CO2e between 2020 and 2050
About
Waste Management, Inc. (stock ticker: WM) is a holding company whose subsidiaries offer waste management, comprehensive waste and environmental services. Headquartered in Houston, Texas, it has residential, industrial, municipal and commercial customers across North America, Canada, and Puerto Rico.
WM's Role in Drawdown
Waste Management has four revenue streams: collecting waste and recyclables from where they were generated, consolidating waste and materials streams to be transported to disposal sites, depositing that waste in one of ~250 landfill locations across North America, and recycling materials.
To make these revenue streams work, Waste Management has a huge network of facilities and locations. This includes (p. 3) 348 transfer stations, 268 active landfill disposal sites, 146 recycling plants, 111 beneficial-use landfill gas projects and six independent power production plants.
Waste Management captures the biogas arising from 104 of their landfill sites. Its landfill gas-to-energy facilities collect methane and carbon dioxide, and these gases (p. 16) are then used to fuel engines for their natural gas waste collection vehicles or turbines that generate electricity to power surrounding areas.
WM: What We Like
Waste Management is widely recognized for their environmental and climate-related initiatives. Regarding their carbon footprint, they have several emissions reduction targets:
Currently, Waste Management's services

avoid 3x more GHG emissions

(p. 4) than what they generate in their operations. They're aiming to increase that to 4x by 2038
Waste management set a target to go 100% renewable energy at all of the sites it controls by 2025
They're committed to developing fugitive emissions measurement systems by using satellite monitoring
By 2025, they're aiming to make 70% of their collection fleet to be alternative fuel vehicles, and 50% of these to be run on renewable natural gas
As of the

end of 2020

(p. 3), 50% of Waste Management's collection fleet and 70% of routed fleet ran on compressed natural gas, and 40% of all compressed natural gas fleet ran on renewable natural gas
These targets are complemented by Waste Manage's thorough methodology in tracking scope 1, 2 and 3 emissions, as well as their meticulousness in having their emissions data verified by independent third-party companies.
As they work on reducing emissions, Waste Management is steadily expanding their operations in North America. Most notably, they completed the acquisition of Advanced Disposal Services (p. 6), the fourth largest waste company in the US, on October 30, 2020, expanding Waste Management's collection and disposal business in a number of markets in the Eastern half of the US
WM: What We Want to See Improve
Capture Methane at All Landfill Sites
---
As of the end of 2020, Waste Management owned or operated 268 landfills. Of these, they captured methane at
146 sites
(p. 7), or ~54%. We urge Waste Management to scale their methane capture operations to 100% of their landfill sites.
Reduce Absolute Emissions
---
Waste Management is right to be proud of
reducing their carbon intensity
(p. 54) (CO2e emissions per dollar of revenue) over the last five years. But at the same time, their absolute total emissions have gone up by
8.45% - over 372,000 metric tons
- in the last four years. That's the same amount of emissions that
81,401 passenger cars
emit in one year. This is unacceptable, and we urge Waste Management to begin cutting their absolute emissions as soon as possible.
Include Emissions Reductions in Supplier Code of Conduct
---
We applaud Waste Management's detailed
supplier code of conduct
, which spells out their expectations for the consultants, contractors and suppliers they partner with. But nowhere in this code of conduct does Waste Management mention carbon footprint. While Waste Management's overall
scope 3 emissions
have steadily declined, emissions from their supply chain have increased over the last four years. This should be cause of concern, and we urge Waste Management pressure their suppliers and partners to cut their own emissions as soon as possible.
Attend Our Next Webinar
Join our next Sustainable Investing 101 webinar, get our favorite DIY options, and walk through how we build our portfolios.
Register
Get Our Newsletter
Go a level deeper with us and investigate the potential impacts of climate change on investments like your retirement account.
Join Newsletter
Talk To A Human
Joining a new investment service can be intimidating. We're here for you. Click below to email us a question or book a quick call.
Ask a Question